Mount Rinjani Trek to Summit 2 days 1 night package start from Sembalun to the crater rim Sembalun, summit and back to Sembalun village.
why must  tour and traveling with us, what is the value and the difference with most tour, travel, trekking and hiking companies in Lombok?
Lombok Green Nature tour and travel is different with most  tour and travel companies in Lombok on business concept. we are not only talking about business to take profits but also talk about responsibility for environmental sustainability.
we have strong commitment support preserve environment  to keep nature, to running the program we cooperate with Sembalun Community Development Centre Organisation ( SCDC ) and Sembalun Nature lover organisation to run an environment project together.
10% from each tourist payment contribute to support environmental sustainability program. it's very important to create sustainable tourism  business that depend on  nature and the environment.
This program for experienced climbers or for trekker in good level of fitness and able to walk up and down for an average of 8.5 hours per day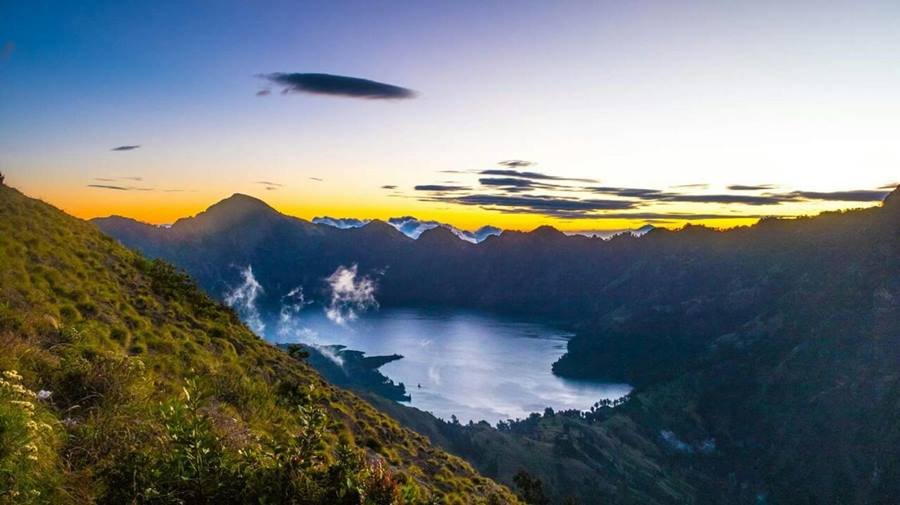 RINJANI TREKKING PACKAGES 2D/1N 2019
about the price of course each company has different price but not all companies have same service. good service to climbers who trekking with us is our priority. we also advice to porters and always try do best for them with respect to agreement between tours operator associated and porter associated  that each porter maximum take 25 Kg.
2-3 Participants = USD250/person
4-5 Participants = USD225/person
6-7 Participants= USD210/person
8-9 Participants = USD200/person
10+ Participants = USD190 + 1 free of charge
10% from each tourist payment contribute to support environmental sustainability program.
Price Includes:
Pick-up from and drop-off to area in Lombok, Bed and Breakfast.
Fuel, driver, and parking fees.
Porter and guide.
Equipment, tent, sleeping bag, cook gear, mattress, toilet tent, and emergency lamp.
Food and water as mentioned on the itinerary.
Government tax and Trekking insurance.
Price Excludes:
International, domestic flight ticket and connecting transportation.
Travel and health insurance.
National Park ticket entrance.
Tips for driver, porter and mountain guide.
Personal expenses.
Itinerary Mount Rinjani Trek 2 days :
Arrival day: We will pick you up at the airport of Lombok or other place in Lombok island and transfer to the hotel in Sembalun. Meet Your trekking guide will provide guidance to better prepare you for the journey.
Day 1 :
Wake up at 6:00 and get breakfast. After that, we will walk to register at the Rinjani information center Sembalun.
Trekking start from the village of Sembalun around 8:00 am. We start with a gentle climb through open meadow. After about 2 hours of walking, we will reach the post 1 (1300m), and another 40 minutes to Pos 2 (1500m). We will continue to Pos 3 (1800m) and have lunch here.
After lunch and rest, we will go to Sembalun crater rim (2639m). It takes 3 hours including a prolonged steep climb. We will camp the night on the crater rim. We can enjoy the view of sunrise and sunset.
Day 2 :
We wake up around 2:00 am under the cover of darkness with a hot drink and a light breakfast. We will start heading to the summit of Rinjani at 3:00 am. We start with a moderate trek, followed by a fairly easy but longer trek. Final approach that involves climbing up steep volcanic scree looser.
At 6:00.am We can reach the summit (3726 m) with a beautiful sunrise, and panoramic view of Lombok island, the island of Bali, the island of Sumbawa and Segara Anak Lake.
After that, we will descend into the crater rim Sembalun within 2 hours and have breakfast here. Then will continue to go down to the village Sembalun, which takes 5 hours to reach. Car will transfer you to your the next destination.
Travel Insurance:
Rinjani Lombok net responsible for evacuate insurance as long as trekking acitivity, but not responsible for your travel and health insurance, and for any claims associated with any event covered by the insurance policy.
You Are Responsible For:
Adequate and valid Travel Insurance is compulsory and mandatory for all the travelers who are going to participate in any of our adventure and recreational activities, i.e. mountain biking, trekking, climbing, etc.
We recommend a comprehensive travel insurance policy that covers repatriation and evacuation in case of a medical emergency, cancellation and curtailment as well as baggage and valuables.
And must cover against personal accident, medical expenses, emergency repatriation, personal liability, and emergency air ambulance/helicopter rescue services.
We will ask and remind you about your insurance policy during your booking with us.
Before your departure to the trip, our tour leader will ask and need to see your insurance policy.
Please, ensure you have your policy number and emergency telephone number for your insurance company.
You are responsible to check the policy and coverage by yourself.
Lombok Green Nature Is Responsible And Provide For These Items:
Equipment, tent, sleeping bag, cook gear, mattress, emergency lamp, toilet tent, and matches.
Food and water as mentioned on the itinerary.
Personal Essential Documents And Items You Have To Carry:
Rinjani Lombok Net is not responsible for your personal documents and items.
Items you are carrying it depend on the type of your activities in the "Programs".
Here is a list of some personal essentials documents and items:
Documents compulsory and mandatory:
Passport with minimum 6 month validity.
Travel and health insurance.
Emergency contact numbers.
Others important items:
Blood type card and allergic.
Prescriptions for any or specific medication.
International driving license (optional).
Spare photo ID and important scans and documents on a dropbox (optional).
Credit cards and small amount of cash.
Clothing:
Lightweight long sleeve trekking shirts, long sleeve cotton t-shirt, windproof jacket, waterproof trekking pants,
top and trouser easy to dry, rain jacket, rain pants and gloves.
Shoes:
Lightweight trekking shoes, lightweight walking shoes, socks and trek poles.
Health:
Complete First Aid Kit, water purification tablets or drops, Iodine pills, diarrhea stopper-Imodium,
other medicine like Antibiotic-Ciprofloxacin, moleskin (for blisters), insect repellent, sun lotion protection,
re-hydration solution sachet, antiseptic cream, lip balm, antihistamine (bites, allergic reactions),
Ibuprofen (anti-inflammatory, pain relief), and some others.
Personal items:
Water bottles, quick dry towel energy snacks, toiletries, toilet paper, hand sanitizer, biological soap, shampoo,
sunhat, sun glasses, earplugs, map and feminine items.
Electronics:
Mobile phone, MP3, earphone, spare batteries, power bank, camera, video, extra memory cards, binocular, compass, headlamp and flashlight with good durability, personal locator beacon (PLB).
Little things:
Cloths string and hooks, books, notes and pen.
Bags:
Dry bag, day pack and recycle plastic bags.
More Information or book Mount Rinjani Trek Package 2 days to Summit please contact us.
GET QUOTES
BOOK NOW!